Dinner Inspiration
Lately I had been feeling uninspired and bored with cooking. I was making the same old stuff, some form of protein, baked sweet potato and greens. I am not sure if it's been the cooler weather, having a baby or that I was just craving flavours of summer salads and fruits.
So to get out of my rut and also spice up our dinner each night I finally decided to read two cookbooks my friend had given me. Lola Berry's The Happy Cookbook and The 20/20 Diet Cookbook.
I would have to say I wish I read them earlier, such simple and easy meals and SO tasty. What I love about these cookbooks is that you are using similar or the same ingredients but in different ways. So I didn't feel I was breaking the bank every time I wanted to try something new, I already had the herb or spice from the recipe the night before.
And there was new of ways of cooking my old favs like roast sweet potato, instead of just baking in olive oil, I was now baking with chilli flakes and paprika. It has changed my uninspired mindset of cooking and I am even using the recipes for my bub and he loving them. I'm just taking out the salt and chili.
My Favourite to do date from the cookbook is
Poached chicken salad with maple – roast pumpkin, feta and pepitas
"Poaching is one of the easiest ways to cook chicken and you end up with a beautiful soft texture and mild flavour, perfect for adding lots of delicious extras. Poaching is also one of the healthiest ways of cooking if you're not wanting to cook with too much oil."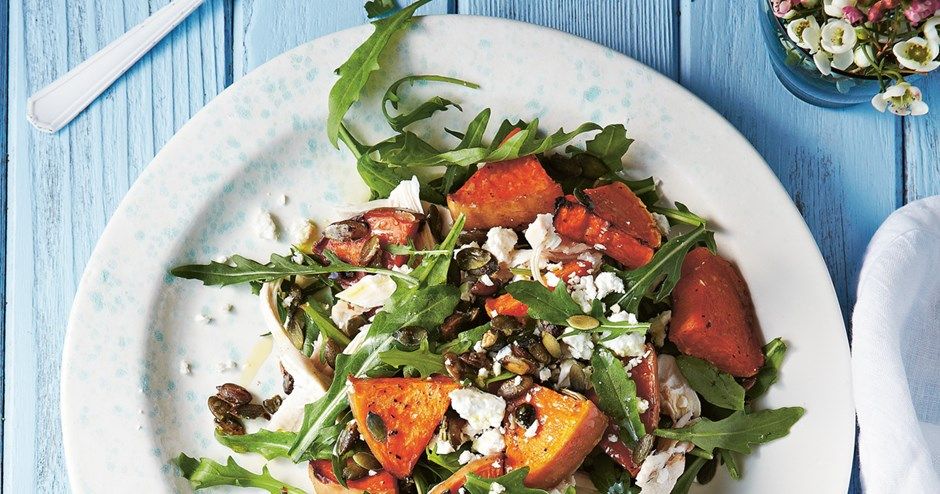 INGREDIENTS
2 skinless chicken breast fillets
½ teaspoon salt
1 garlic clove, smashed
½ teaspoon peppercorns
2 mega handfuls of rocket,
washed and dried
100 g (½ cup) goat's feta,
broken into chunks
1 tablespoon maple syrup
3 tablespoons extra-virgin
olive oil
Maple-roasted pumpkin
300 g (2 cups) roughly
chopped pumpkin
2 tablespoons coconut oil,
melted
2 tablespoons maple syrup
30 g (¼ cup) pepitas
(pumpkin seeds)
salt flakes and freshly ground black pepper
METHOD
1. For the roasted pumpkin, preheat the oven to 180°C. Put the pumpkin chunks onto a baking tray and drizzle over the melted coconut oil and maple syrup, sprinkle with the pepitas and season. Roast for 20 minutes, or until the pumpkin softens; the bigger the chunks, the longer it will take to cook. When it's cooked, leave it to cool.
2. Place the chicken breasts in a pot, sprinkle with salt, garlic and peppercorns, then pour in enough water to cover the chicken by about 3 cm. Put the pot over a medium–high heat, and bring to the boil. You'll notice some white stuff come off the chicken – this used to freak me out but it's totally fi ne, you can scrape it off if you want to use this water as chicken stock later on for soup, but if not just leave it in (I do).
3. When the water comes to the boil, lower the heat and let it simmer for 10 minutes. You can tell the chicken's cooked by pulling the thickest bit apart – it should be white the whole way through. Another trick is to look at the juices – you don't want them to be pink, they should be clear.
4. When the chicken is cooked, remove it from the poaching liquid and place it on a chopping board to cool, then shred it for a rustic feel. Set aside.
5. To assemble your salad, in a large bowl put your rocket, the roasted pumpkin, crumbled feta and pepitas, season and toss it all about (gently!), then pop your shredded chicken on top and give it just a tiny drizzle of maple syrup and a nice glug of olive oil to finish.
The Happy Cookbook by Lola Berry is published by Plum, RRP $34.99, is out now. http://lolaberry.com/lolas-store/